The Plight of the Palestinians:

Read about the history and key historical events in Palestine, from 1917 till today.
Palestinian Global Peace Award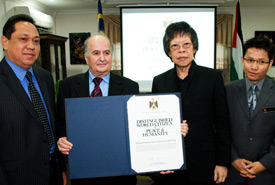 The State of Palestine honoured Tan Sri Lim with the Distinguished World Citizen of Peace and Humanity Award.
Get on the net talk to the world
Write to the newspaper, petition the politicians, make an I-report for CNN, correspond with the broadcasters, let the United Nations know your view.
---
Give us your support
Join the goundswell of activists who are clamouring for a halt to the massacre of men, women and children in Gaza. Limkokwing University is collecting funds for the purchase of medicine and food for the Palestinians.